Dr Kang Wee Lee
Credentials

Bachelor of Medicine & Bachelor of Surgery (NUS, Singapore)
DFD, Compressed Air Works (Singapore)
Member of the Royal College of Surgeons (Edinburgh)
Master of Medicine, Otorhinolaryngology (NUS, Singapore)
Fellow, Academy of Medicine Singapore (Otorhinolaryngology)
Languages
English
Mandarin
Hokkien
Cantonese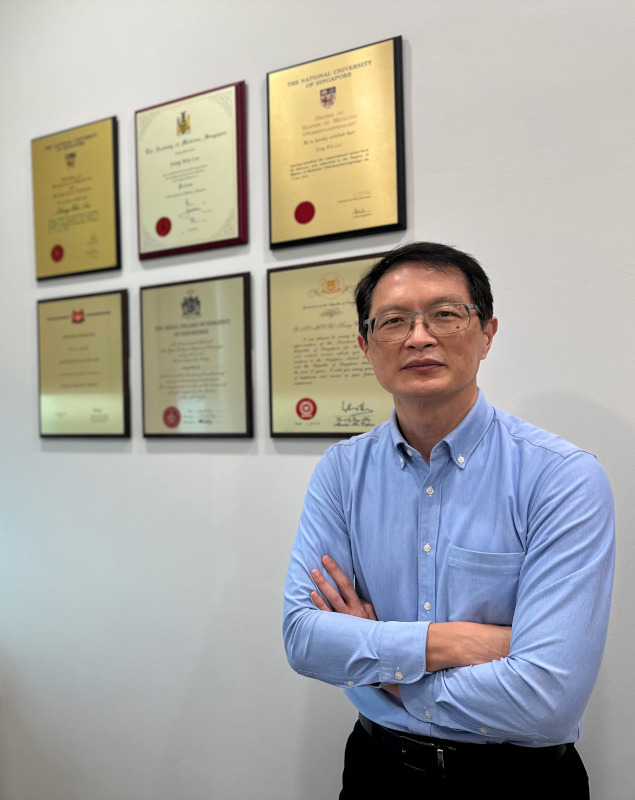 Clinical focus & Medical Services
All Ear, Nose & Throat (ENT) conditions including ear complaints, throat symptoms, snoring/sleep apnoea problem and neck swellings (including thyroid problem).
Sub-specialty interest in Nose & Sinus conditions including allergic rhinitis & related illness, sinusitis, nasal polyps, sino-nasal tumours, and complex paranasal sinus & nose conditions.
Diving medicine, in particularly ENT-related (ear and sinus) diving medical conditions, fitness-to-dive issues, and complex diving medical conditions & emergencies.
Procedure Focus
Besides surgical treatment for general ENT conditions (including tonsillectomy, adenoidectomy, thyroid surgery, snoring, myringotomies etc), Dr Kang has a sub-specialty interest in endoscopic (and minimally invasive) surgical procedures pertaining to the treatment of nose & sinus conditions such as allergic rhinitis, enlarged turbinates, nasal obstruction, deviated nasal septum, epistaxis (nose bleeding), sinusitis, nasal polyps, nose tumours, and other complex paranasal sinus & nose conditions.
Background
Dr Kang received his medical degree from the National University Singapore School of Medicine in 1993. He completed his Ear, Nose & Throat (ENT) Surgery specialist training in Singapore and went on to complete the Rhinology Fellowship in University of Auckland, receiving sub-specialty training in rhinology, allergy and advanced endoscopic sinus surgery & skull base surgery.
Prior to his move to private practice, Dr Kang was a Consultant at the Singapore General Hospital (SGH) and Sengkang General Hospital (SKH) Departments of Otolaryngology (Ear, Nose & Throat Surgery). He subsequently practiced in Novena ENT-Head & Neck Surgery Specialist centre, before commencing his own practice in Starlight ENT Specialist Centre. Besides treating patients with general ENT conditions, Dr Kang has a special interest in rhinology & advanced endoscopic surgical techniques, and he manages complex Paranasal Sinus & Nasal conditions in his clinical practice.
While working in SGH, Dr Kang was also a Consultant in SGH Hyperbaric & Diving Medicine Centre treating divers with diving-related medical conditions. During his time in the SAF & Navy, Dr Kang has also seen and treated Naval Divers for their medical conditions and diving-related ailments. As a trained diver and qualified diving medicine specialist, Dr Kang has a keen (and unique) interest & expertise in managing ENT-related diving medical conditions and complex diving medical problems & emergencies. He remains as Visiting Consultant to both SGH and SKH.
Dr Kang had previously served in the Singapore Armed Forces (SAF) before retiring from military service as the SAF Chief of Medical Corps with the rank of Rear-Admiral. For his contributions to the nation, he was awarded the National Day Award – Public Administration Medal (Silver) (Military) in 2012.
Professional Appointments & Committee Memberships
Chairman, National Advanced Trauma Life Support (ATLS) Committee (July 2011 to May 2015)
Co-Chairman, ASEAN Defence Ministers' Meeting Plus (ADMM-Plus) Expert Working Group in Military Medicine (Jul 2011 to Oct 2013)
Co-Chairman, SAF Joint Medical Committee (Research) (July 2011 to May 2015)
Board Member, Singapore Agri-food and Veterinary Authority (AVA) of Singapore (Apr 2010 to March 2015)
Member, National HIV/AIDS Committee (July 2011 to May 2015)
Co-Chairman of Scientific Sub-committee – 18th Asia Pacific Military Medicine Conference (Singapore) (2008)
Fellow, Academy of Medicine (Singapore) (2008 to present)
Member, Singapore Society of Otolaryngology, Head & Neck Surgery (2007 to present)
Teaching Faculty (Postgraduate Medical Education)
Teaching Faculty, SGH Functional Endoscopic Sinus Surgery Course (2013, 2014, 2016, 2017, 2018)
Teaching Faculty, CGH Foundational Surgical Skills Course in Otolaryngology (2015, 2017, 2018)
Teaching Faculty, Singapore Allergy & Rhinology Conference and FESS Workshop (2014, 2015, 2017, 2018, 2019)
Teaching Faculty, 12th Khon Kaen FESS course & the 5th Khon Kaen International course in Advanced endoscopic sinus and skull base surgery (Jan 2017)
Teaching Faculty, Ipoh FESS Course (Oct 2017)
Teaching Faculty, Asia Pacific Otolaryngology Surgical Training (APOST): Functional Endoscopic Sinus Surgery Workshop (Singapore, Oct 2018)
Teaching Faculty, 18th ASEAN ORL-HNS Congress, Endoscopic Sinus Surgery and Skull Base Master Course (Singapore, August 2019)